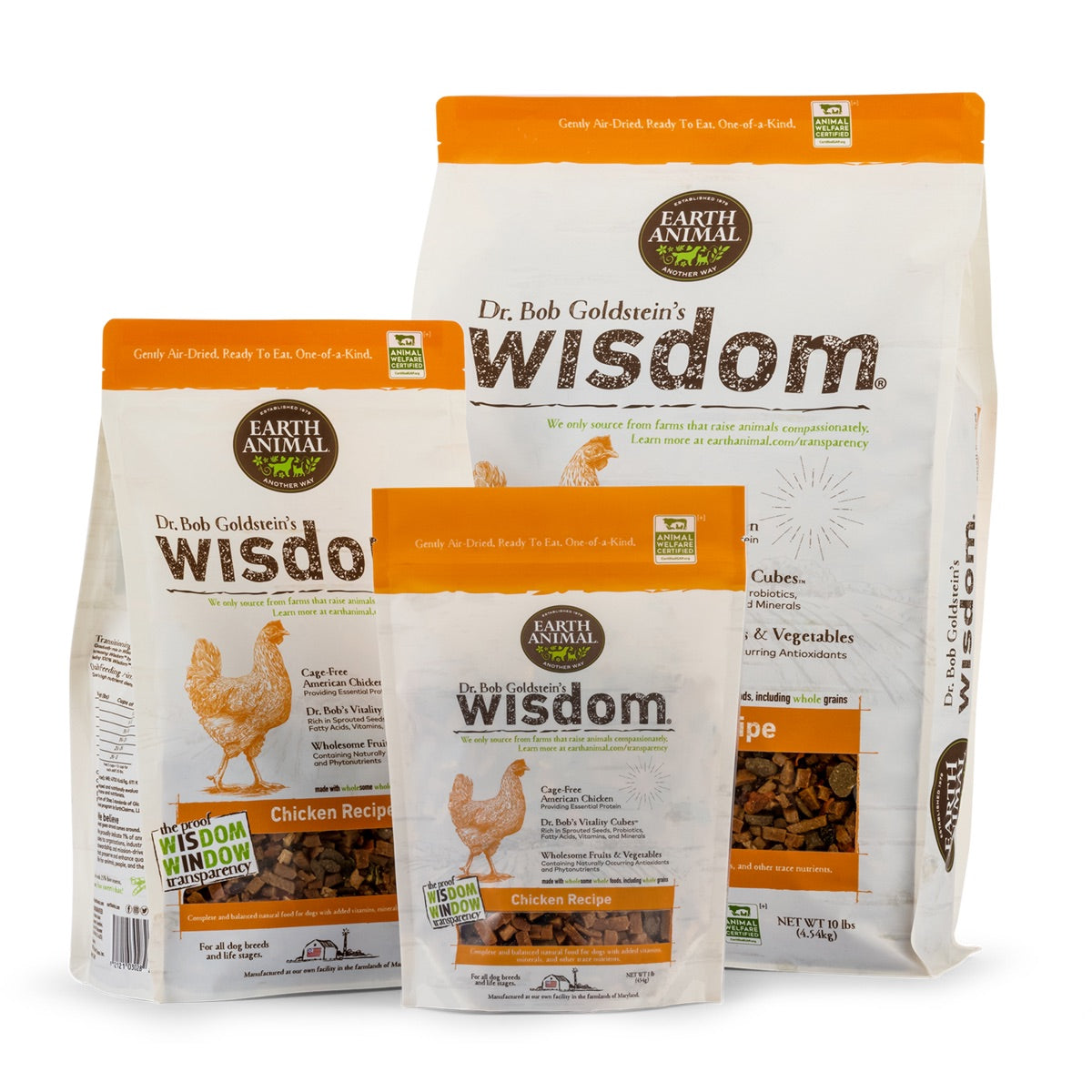 "Let's ask the Earth for some WISDOM"

  Earth Animal, one of the most holistic friends we collaborate with. Their foundation of animal health and wellness stems from the founder of the company, Dr. Bob Goldstein. The company is well known for their No-Hide chews. Also producing air-dried dog food, herbal shampoo, flea and tick prevention, zen-pen and longevity solutions.
  Dr. Bob Goldstein's Wisdom is the name of his dog food. Its compatibility of being a meal, mixer or treat makes it versatile. Since 1979, Dr. Goldstein does not add, corn, wheat, soy, legumes, artificial flavors or preservation. He values high digestibility, high nutritional density. Wisdom is air dried, and one of a kind.
   Seasons are now changing and we are in the mists of Spring. The best thing Dr. Goldstein recommends for both feline and Canine, is the 3yr Herbal Flea and Tick collars and Spot On protection. No one wants to be itchy and have to worry about any harsh chemicals rubbing off from big-box name flea protection products. Our personal recommendation: besides using either the flea and tick collar or spot on treatment, include usage of the Herbal Shampoo and Herbal Bug Spray. For those thunderstorms and fireworks, or even overall anxiety, use their Zen-Pen! 
    As more pet parents become conscious in their pet's health, healthy treats are a must. No-Hide chews from Earth Animal come in a variety of flavors and sizes. Fun for any active chewer and any age as well. The No-Hide chews and the Herbed Chicken Tenders, with different health properties, help make the job of pet parents easier with making healthy choices.
   Don't forget to stop in one of your local Pet Oasis stores or shop online at PetOasisny.com. Check out EarthAnimal.com for more interesting information and to learn more about why Dr. Bob Goldstein started his company. We would love to hear from you and your stories with our friends products, leave a comment down below and hope to see you in person soon.


3241 Richmond Ave SI, NY 10312. 718-356-3130 to shop and book your next grooming appointment.
3135 Victory Blvd SI, NY 10314. 718-698-6400
2333 Hylan Blvd SI, NY 10306. 718-351-1700 to shop and book your next grooming appointment.
393 NJ-34 Matawan NJ 07747. 718-970-8800 to shop and book your next grooming appointment.


   Thanks for Reading
James La Barbera @businessestoknow
Apr 12, 2021

Category:

News
Comment: 1