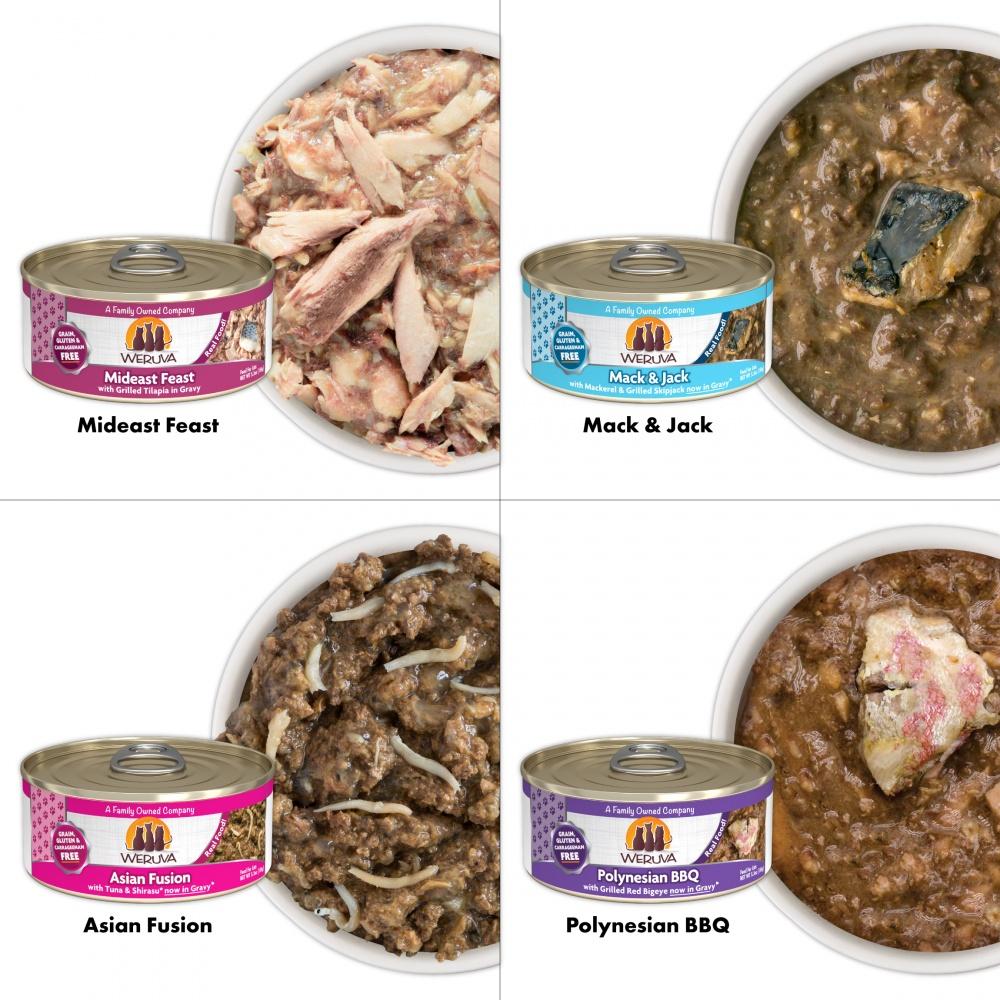 Imagine this- To have a personal chef cook for you every night. Now extend that towards your dog or cat. There's a brand called Weruva that can feed your pet's next meal as if your kitchen is a restaurant.

Weruva has a variety of lines for both felines and canines. Their brand is directed towards a high moisture diet. This benefit is not limited to animals who are diabetic, stone or crystal issues, but instead for everyone. My personal choices are: Wok the Dog, which is chicken, beef and pumpkin in gravy, Bed and Breakfast, which is chicken, egg, pumpkin, and a spin off of Dr. Seuss, Green Eggs and Chicken, which is chicken, pumpkin, greens, and egg in gravy in a dark green colored can. All of these delicious dishes have some type of veggie, fiber for stomachs and most importantly, appealing to the eye. 
Weruva's Feline collection has both can and pouch products. The feline collection has different textures for your cat's preference: shredded, patè, minced and stews.

The most pickiest eater I know is my friend Benny the bulldog. Benny went through multiple brands and stores. Until recently finding the help from staff at Pet Oasis, my picky furry friend now has a variety of assortment of Weruva. Also, let me not forget Patty the American Shorthair Feline, that only likes fish. She was  introduced to Weruva and her appetite along with palate changed for the best. 
In the comment section below, tell me about your feline or canine and how picky they are.
 3241 Richmond Ave SI, NY 10312. 718-356-3130 to shop and book your next grooming appointment.
3135 Victory Blvd SI, NY 10314. 718-698-6400
2333 Hylan Blvd SI, NY 10306. 718-351-1700 to shop and book your next grooming appointment.
393 NJ-34 Matawan NJ 07747. 718-970-8800 to shop and book your next grooming appointment.
Shop from home at PetOasisny.com
Follow us on Instagram, @petoasisny and @petoasisnj.
Thank you for reading and talk to you next time with more fun info from me, James La Barbera @Businessestoknow on Instagram.
Enjoy your new night off with Weruva!
Mar 31, 2021

Category:

News
Comments: 0